What we were talking about this week…
A Tale of Two Sides of the Gaza Border 

Click to watch video
On one side (which the media and Israel's detractors will tell you is a peaceful protest) Palestinians are burning tyres, throwing firebombs and just casually flying swastikas on kites.
On the other, Israelis gathering to thank the IDF, waved flags and released balloons over the border.
When will it end?
Still on Hamas, I came across this fantastic, must-read piece by Dennis Ross about the ways in which Hamas exploits its own people. Ross is well versed to make this analysis given his credentials – among other things he was the US Middle East envoy during the Clinton-era in a critical time when peace seemed so close.
He says, "Why else would Hamas build tunnels to protect its weapons and its fighters but not its people during conflict with Israel? Why else, when Gazans desperately needed reconstruction, would its leaders divert short supplies of cement, electric wiring and iron away from badly needed housing construction to build the tunnels?"
Miriam Peretz – Israel Prize 
"If only we recognize that there is more that unites us than divides us. All of us in this country are seekers of a meaningful life. We are all seekers of peace. This is the home that belongs to all of us and no side has exclusivity over the love of the people or the love of our land." – So said Miriam Peretz last Thursday evening as she accepted the Israel prize for her work in youth education.
In 1998, Miriam's oldest son Uriel z"l, was killed while serving in Lebanon. Twelve years later, in 2010, another son Eliraz z"l was killed on the Gaza border.
She said,"Ladies and gentlemen, I stand humbly before my colleagues, honorable people who created, wrote, studies and invented, people of vision, creation and faith. I am not worthy, I don't have a creation. I can't point to a revelation I made or a formula I cracked."
And continued, "I have a heart that was broken three times with terrible announcements: The loss of my eldest son Uriel in battle in Lebanon, the death of my partner Eliezer due to a broken heart, and the loss of my second son in battle in Gaza… With that heart I came to my nation and in simple words, in the language of a broken heart, I spoke of this land and its legacy, of choosing goodness, of happiness, of devotion to life, of responsibility, of social involvement, and out of that heart which beats with faith in this country and this nation, out of the great depth of pain flowed springs of love…When the heart is full of faith, it can withstand great challenges. I turned my grief into a new melody."

Click to watch video
What a remarkable woman!
A few days later Education Minister Naftali Bennett made the following announcement: "Over the next week, Israeli students will learn about the speech, the values ​​it expresses and the significant messages that Miriam brought to the State of Israel. We were all privileged to hear the words of the living G-d last night, and now we will make sure that these will seep into the next generation as well."
I am so in awe of Miriam's strength and the powerful words that she blessed to all of Israel.
Miriam – Mazal Tov on this most prestigious award, may you know no more sorrow and may your heart always sing a beautiful melody.
Take that BDS Movement – Artists performing in Israel! 
In a world of boycotts and cancellations, I love it when artists come to perform in Israel, and fall in love with the country. And that is exactly what happened when the Backstreet Boys came to town and performed to 16,000 of their nearest and dearest Israeli fans.
Band member AJ McLean said to the crowd "Good evening, Israel! Backstreet's back! We are so beyond excited to be here for the second time. I assure you, this will not be our last time. I really wanted to move here, like, yesterday. The most beautiful people, good food, the ladies…"
H/t & Video: Israellycool
Later in the week another artist, this time Jay Kay of Jamiroquai fame, posted a video about his upcoming trip to Israel.
The British funk and jazz group is being pressured by Artists for Palestine UK to ditch their May 2 gig in Israel, but Jay Kay was having none of that.
He posted a video on the Jamiroquai FB page saying, "I'm taking a short break at home and then – I am coming to Tel Aviv, in Israel, where we've never played. And I'm thoroughly looking forward to it. So all you guys out there thinking I'm not coming – I am coming. Okay? Cool."

Click to watch video
Well, that pretty much clears it up any confusion the vile BDS Movement may have had. I am looking forward to hearing all about his show next week.
Tragedy in Israel 
I was devastated to learn about yesterday's tragedy where 9 Israeli teenagers were killed by a flash flood while on a school hike in the Negev. One girl is still missing as the search was called off due to hazardous conditions. Two students were treated for moderate injures and another thirteen were found uninjured. Two guides and a medic were also unharmed.
The group, from a pre-military academy school, were on a two day bonding trip to Zafit Stream. The group was hit by a flash flood and those who were walking in the middle of the stream were immediately carried off by the massive wave.
Due to storms and floods in Israel, it has been revealed that students had expressed deep concern about the safety of the area. It has been revealed that a day earlier one of the girls wrote to her friend, "I cannot believe that I am actually going out on this trip in this weather. It makes no sense to go to a place prone to flooding. It is tempting fate. We will die, I am serious."
This is just tragic and heartbreaking.
The names of five of the nine students have been cleared for publication. They are :
Ella Or
Yael Sadan
Tzur Alfi
Shani Shamir
Romy Cohen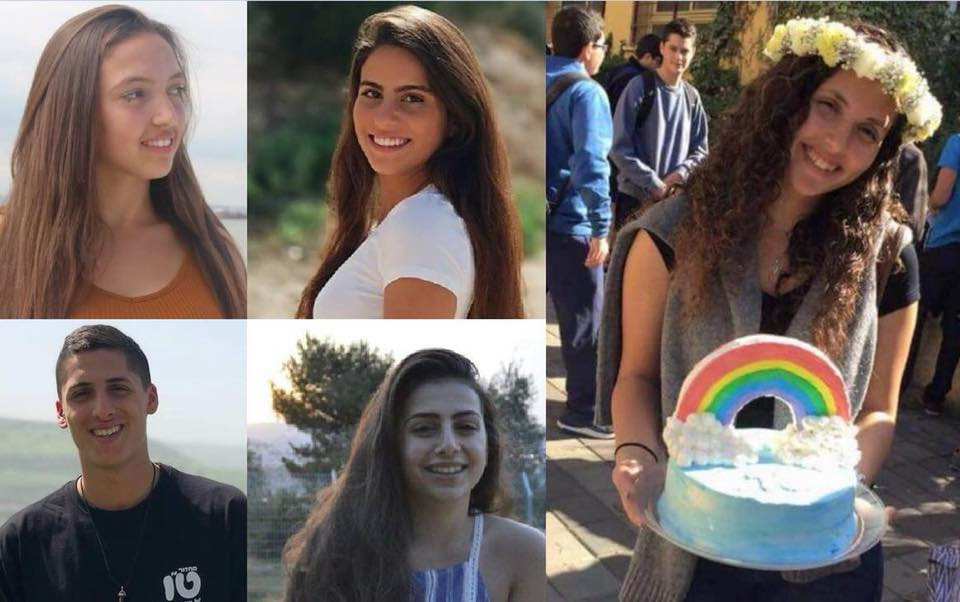 We send our deepest condolences to the families of the teens that were killed and pray that the missing teen is found unharmed.
יהי זכרם ברוך
Praise for Ambassador Nikki Haley
Yesterday, at a UN Security Council open debate on the Middle East, US Ambassador to the UN Nikki Haley brought up the issue of the use of innocent children, women, and men as human shields. She went on to condemn Hezbollah, Houthi militants, ISIS and of course Hamas for using their people as human shields.
She also condemned Hamas for exploiting and endangering "the very Palestinian people it claims to represent by locating rocket launchers near schools, apartment buildings, hotels, churches, and UN facilities. It's been less than a year since a Hamas terror tunnel was discovered underneath two UNRWA schools in Gaza."
She concluded, "Anyone who cares about the lives of Yemenis or Palestinians should demand accountability for the militants who exploit them. Anyone who truly cares about children in Gaza should insist that Hamas immediately stop using children as cannon fodder in its conflict with Israel.
This is an issue that transcends the usual debates in this chamber. It is quite simply an issue of decency. Humanity itself loses when the barbaric practice of human shields is tolerated and unanswered."
Thank you Ambassador Haley, for standing up against this and for always speaking the truth!